Microsoft Kids - 3D Movie Maker
and everything else you need to use it on a modern computer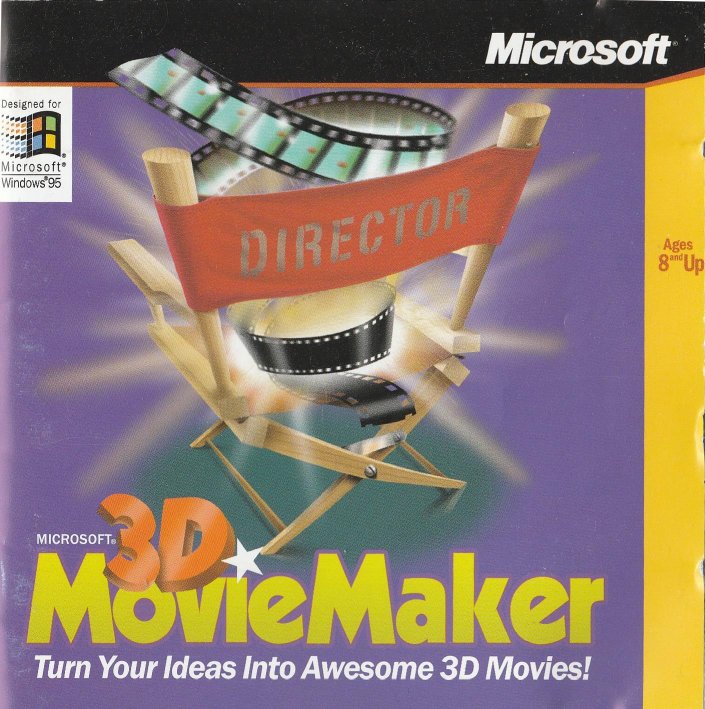 This archive includes the original disc image and a patch to run the software without the original CD, the Doraemon and Nickelodeon expansions, v3dmm 0.14, and an all-in-one installer for those who prefer to not install everything manually. It also includes many useful third-party tools for working with and modifying the software.
DOWNLOAD (All-in-one installer)
The "Modern Installer" requires .NET Framework 4.5.1 according to
https://archive.org/details/ms-3dmm-modern-installer-10
. You can download .NET Framework 4.5.1 from
here
. Make sure that the install directory is set to "Program Files" (NOT x86). This installer installs v3dmm, all expansions, and applies the NoCD patch for you. It just works
TM
DOWNLOAD (disc image .iso)
DOWNLOAD (official expansions)
Mount the 3DMOVIE100.iso using your preferred method and then run SETUP. Install to "C:\Program Files\Microsoft Kids\3D Movie Maker" (DO NOT use Program Files x86). Use the NoCD Patch, or copy the contents of the 3DMOVIE folder from the 3DMOVIE100.iso to the install directory, and overwrite all conflicting files. Run the installers for the expansion packs with their default settings. Finally, install v3dmm 0.14. This will allow you to use community made assets for 3D Movie Maker. Open v3dmm after install to run 3D Movie Maker.
DOWNLOAD (3dmm tools)
These tools are from the
3dmm community forum
.
3dmm Capture (necessary tools for capturing 3dmm movies to avi, see this thread for more info.)
3dmm Pencil (lets you mess with the internals of 3dmm datafiles.) Note: You must extract 3DMM Pencil to a directory of your choice, and copy 3DMOVIE.EXE into this directory before it will work. -Haynes
7gen (7gen_0.7_2.zip) (lets you make expansions, textures, and other stuff like that) <instructions on installing>|<7gen For Dummies - Actor Extractor>|<7gen For Dummies>
BMDL2OBJ Tools (converts 3dmm's native .bmdl model format into .obj, which is readable in all 3D modelling programs, and vice-versa, for model editing.
Ogg Vorbis Codec remover (some people get an error message for no reason when trying to run 3dmm. Use this if symptoms point to Ogg Vorbis)
3dmm Animation Pro 2.7 (3dmmap2&scripts.zip) (essential for doing complex scene movements. Probably the most handy tool in all of 3dmm land) Note: Includes texture-scrolling and sceneed script files. Move them into the 3dmmap\scripts folder.
Py-Q (use this to put full quality sound files in your movies)
Sound Extractor (se5.zip) (take out 3dmm default sounds, recorded or imported sounds and convert them to a playable file)
The 3dmm -> GIF maker, Spider2.1 (create animated GIFs from your movie clips)
3dmm MIDI Converter (Convert the 3dmm midi's into a useable format, like for ringtones etc!)
3DMM MIDI library (3dmm_mids.zip) courtesy of Terrum
3DMMFPS (Change the framerate 3dmm runs at -- see this thread for details on making it work with v3dmm.
Chunk Explorer (see this thread for more info)
3DMM Actor Extractor (extracts actors from 3DMM for modification.)
Cursor Fix (run this while 3DMM is running. Fixes the "jumpy" cursor issue on Windows 10, see here for more info)
VMM Cleaner (removes unused expansions from your movie to lower the file size)
CalcRunTime Calculate the runtime for .3mm or .vmm files. Doesn't count dissolves or credit box time. May not be 100% accurate, but it's close.