"Fighting and violence in general is pathetic."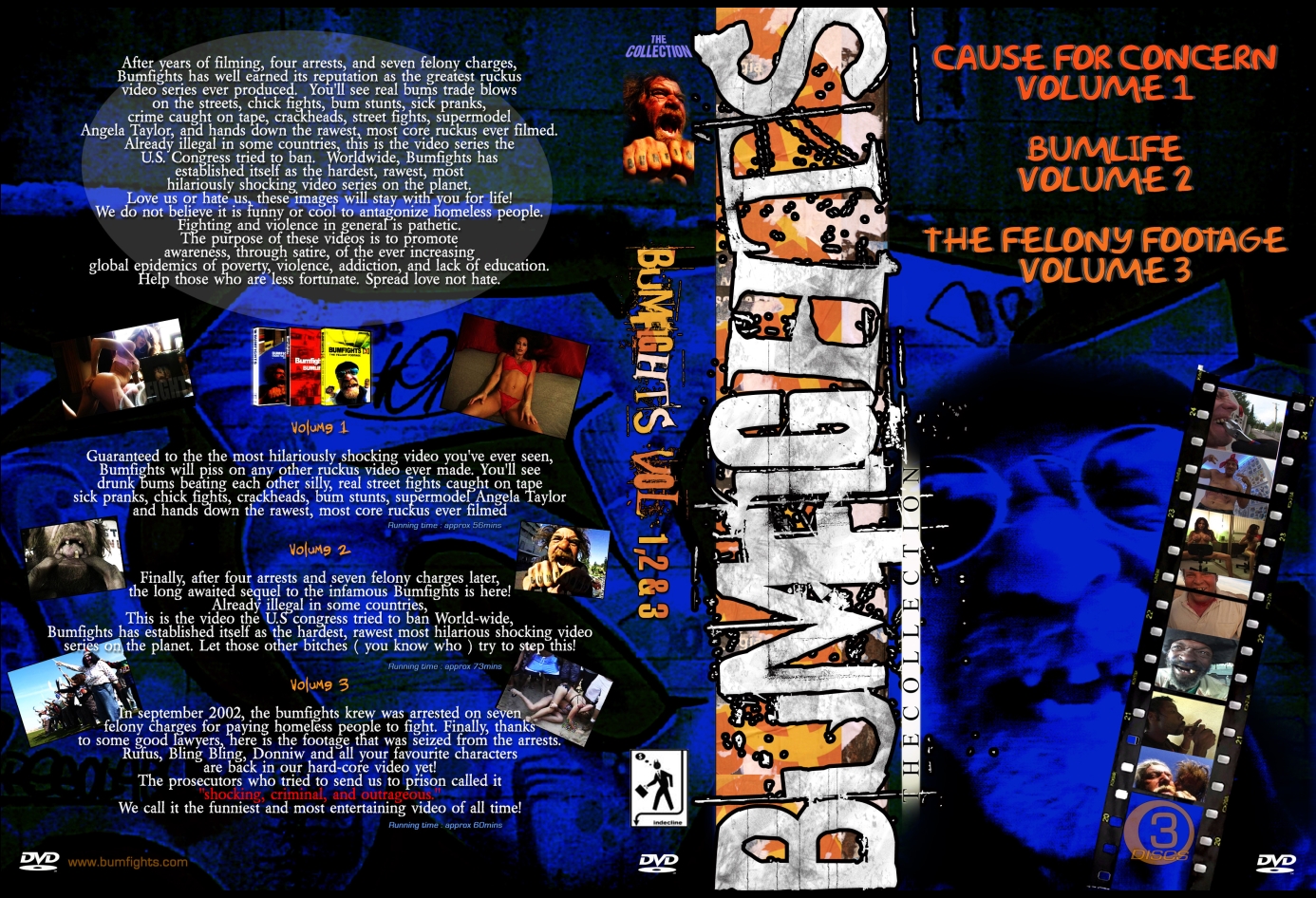 Bumfights is a video series produced by Indecline Films. The debut release titled Bumfights Vol. 1: A Cause for Concern features primarily high school fights caught on tape and homeless men (most notably Rufus Hannah and Donnie Brennan) in the San Diego, San Francisco, Los Angeles, and Las Vegas metropolitan areas attempting amateur stunts in a style inspired by the popular MTV series Jackass. It was produced by Ryen McPherson, with friends Zachary Bubeck, Daniel J. Tanner, and Michael Slyman, as Indecline Films. Contrary to its title, the video does not depict homeless men actually fighting, but instead a compilation of street fights caught on tape and homeless men performing in skits and stunts.

The video series immediately garnered criticism. The US-based National Coalition for the Homeless (NCH), a homeless advocacy group, has stated that the Bumfights videos foster contempt for the homeless and dehumanize them. In April 2006, the four original filmmakers agreed not to produce any more Bumfights videos or distribute videos already made, and to pay three homeless men depicted in the videos, under a settlement announced shortly before a lawsuit was due to go to trial.

Before the videos were banned, they were readily available for purchase on VHS and DVD through mail order and some retail stores such as skate shops carried them. Some big-name merchants such as Amazon forbid the purchase of any Bumfights films—the series survives today mostly through peer-to-peer torrents.
Includes bonus content: Indecline - It's Worse Than You Think and LSD Riders - Take It and Love It
Volume 1: Cause for Concern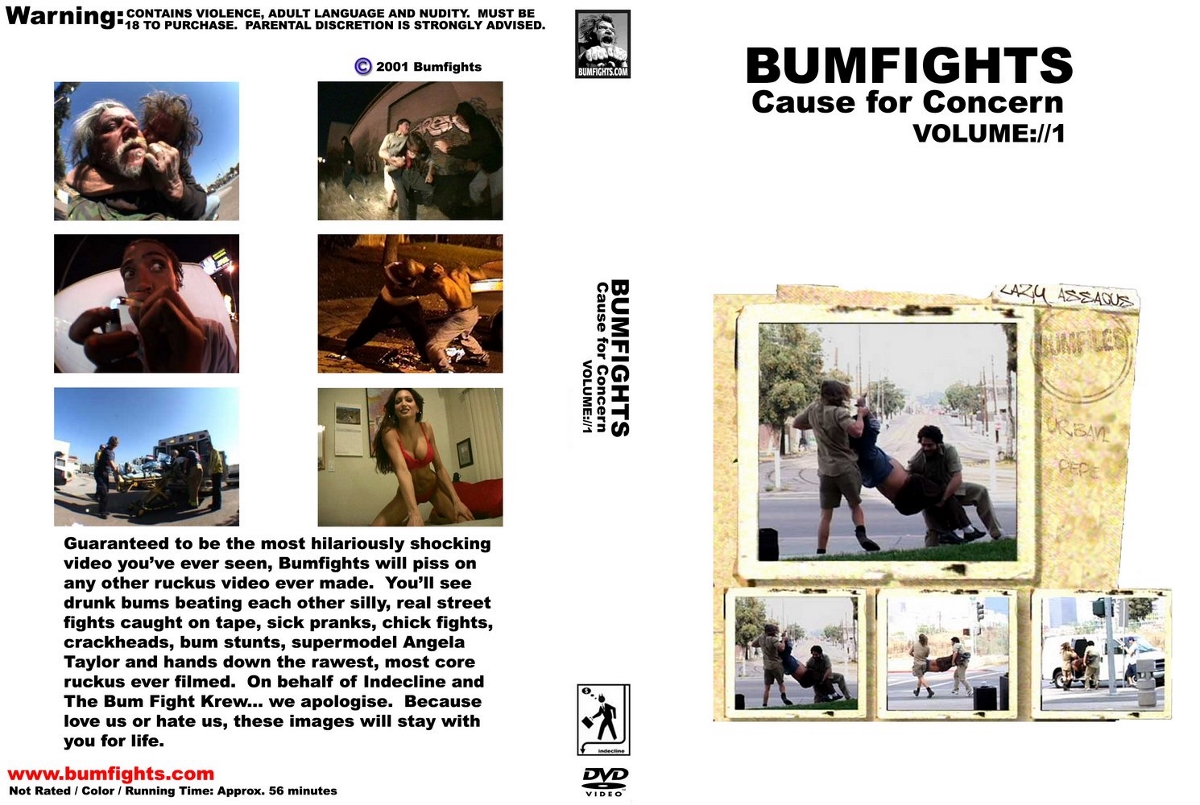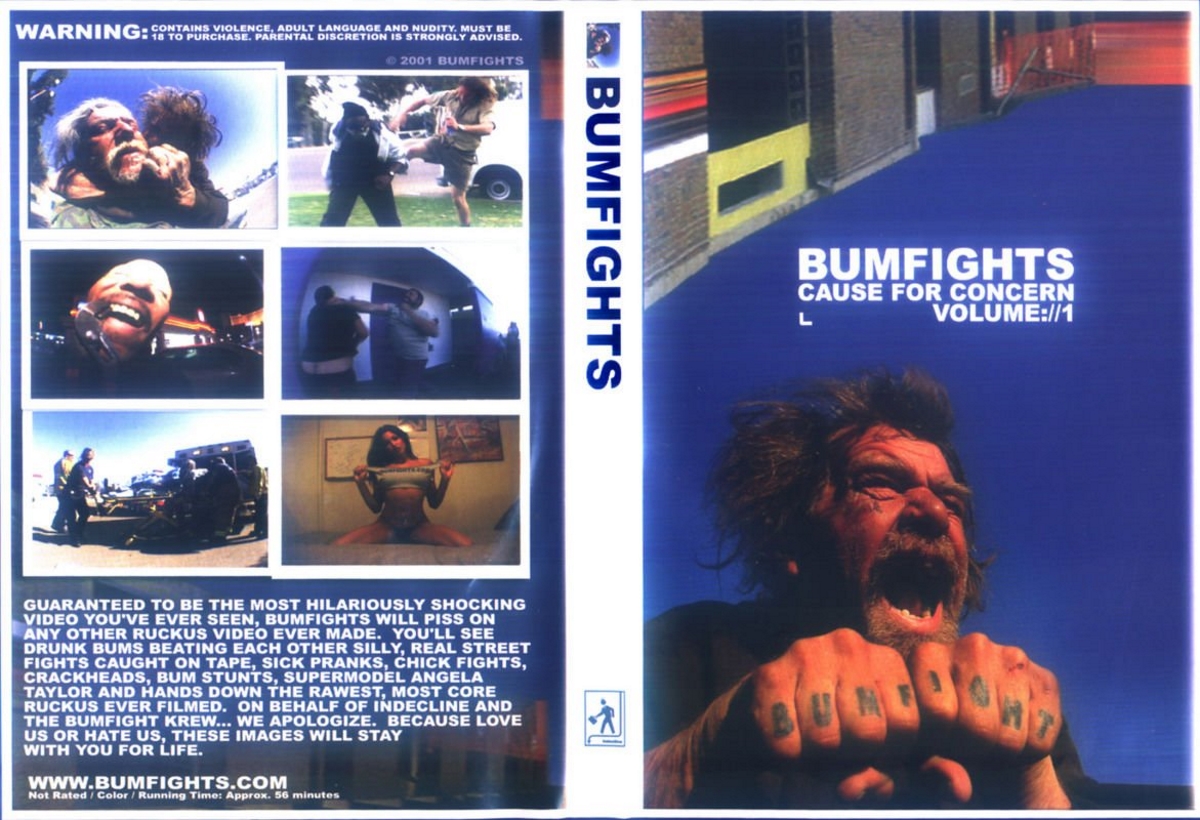 Directed by
Ryen McPherson
Cast
Bling Bling ... Bling Bling
Donald Brennan ... Self
Donny ... Self
Rufus Hannah ... Self
Peter LaForte ... Self
Todd Richard Lewis ... The Bumhunter
Produced by
Ty Beeson ... producer
Ray Leticia ... producer
Release Dates
USA 2002
Production Companies
Indecline Productions
Distributors
Fallms Filmes (2005) (Brazil) (DVD)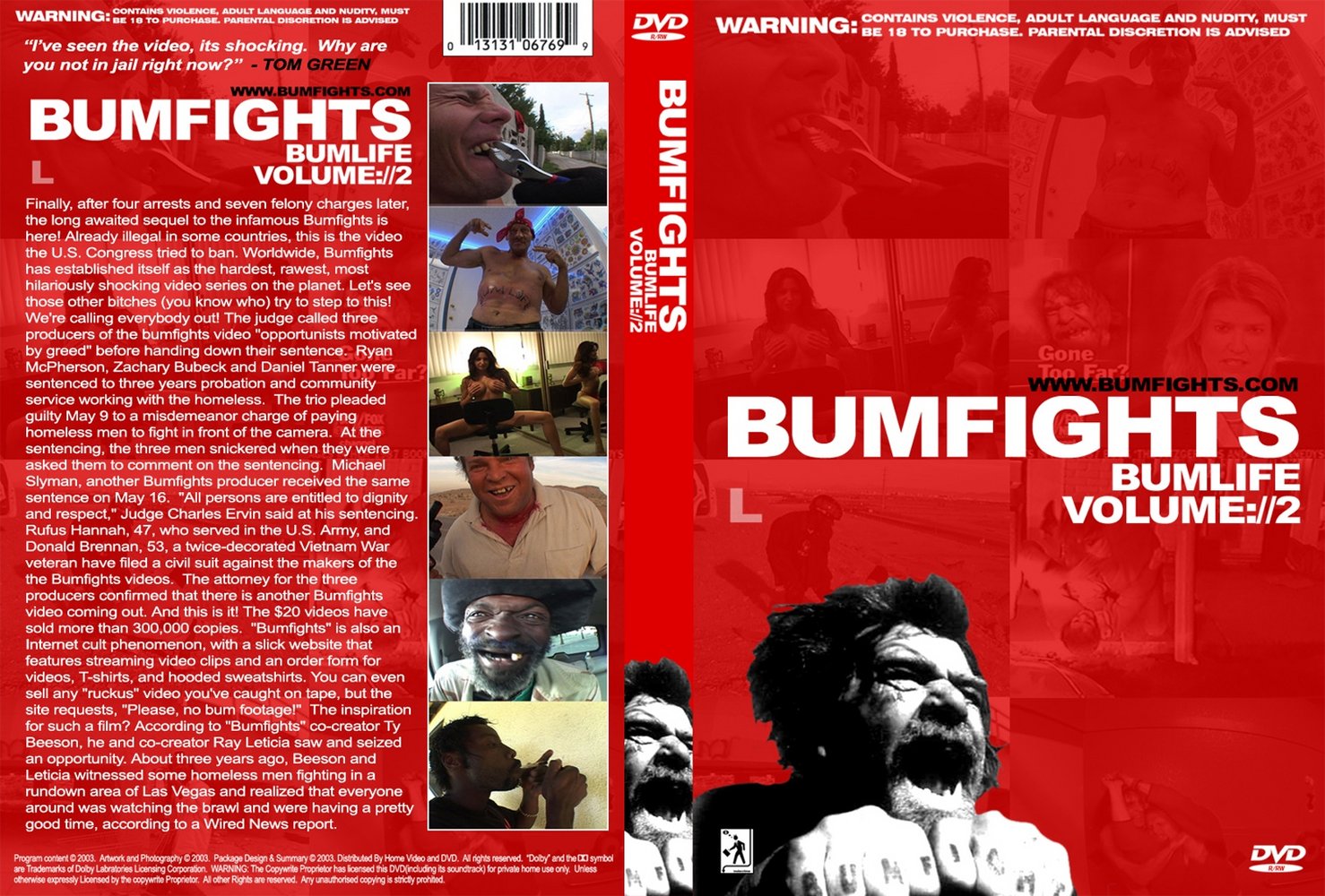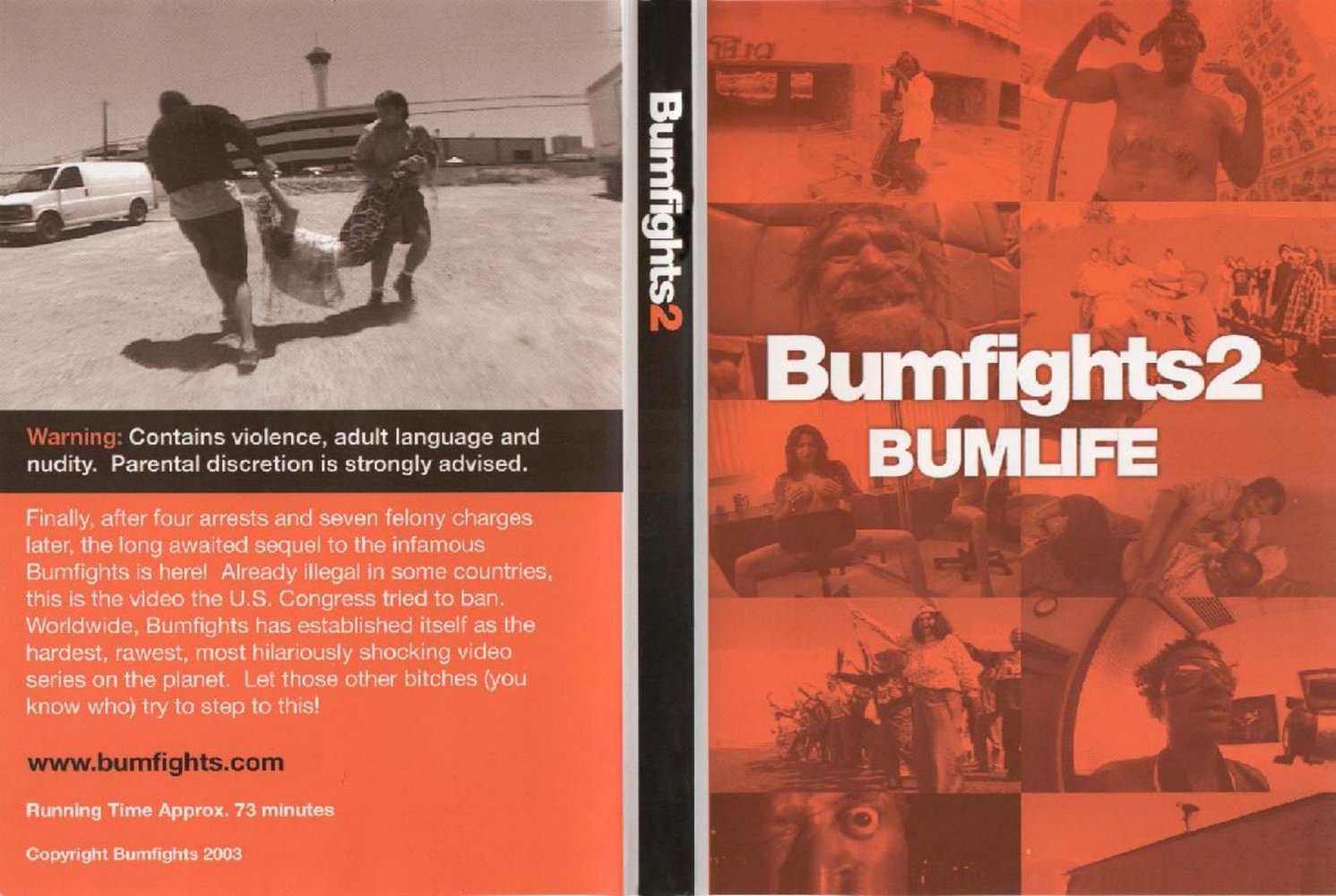 Directed by
Ty Beeson
Ray Leticia
Cast (in credits order)
Rufus Hannah
Bling Bling
Produced by
Ty Beeson ... producer
Ray Leticia ... producer
Release Dates
USA 2003
Production Companies
Indecline Productions
Volume 3: The Felony Footage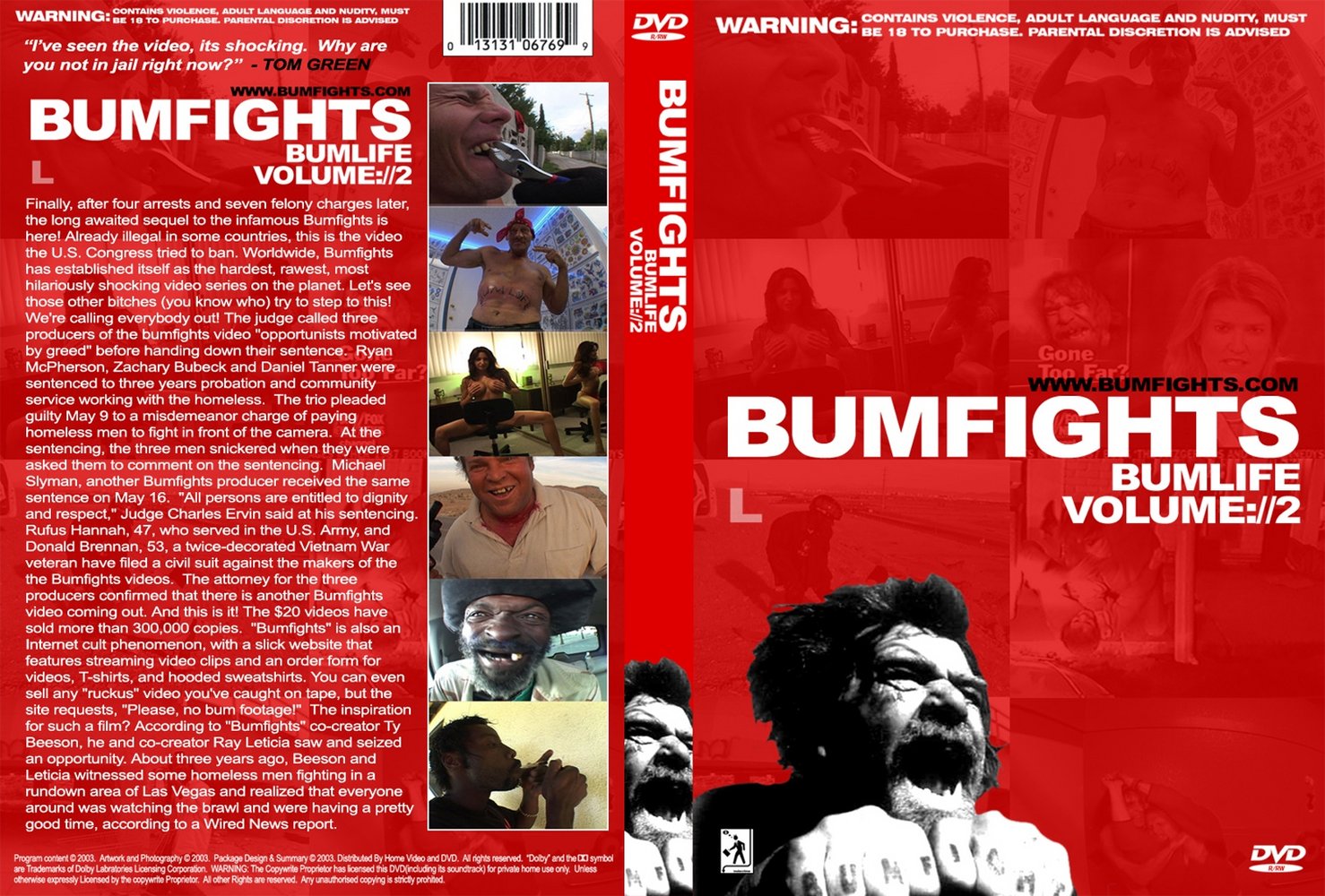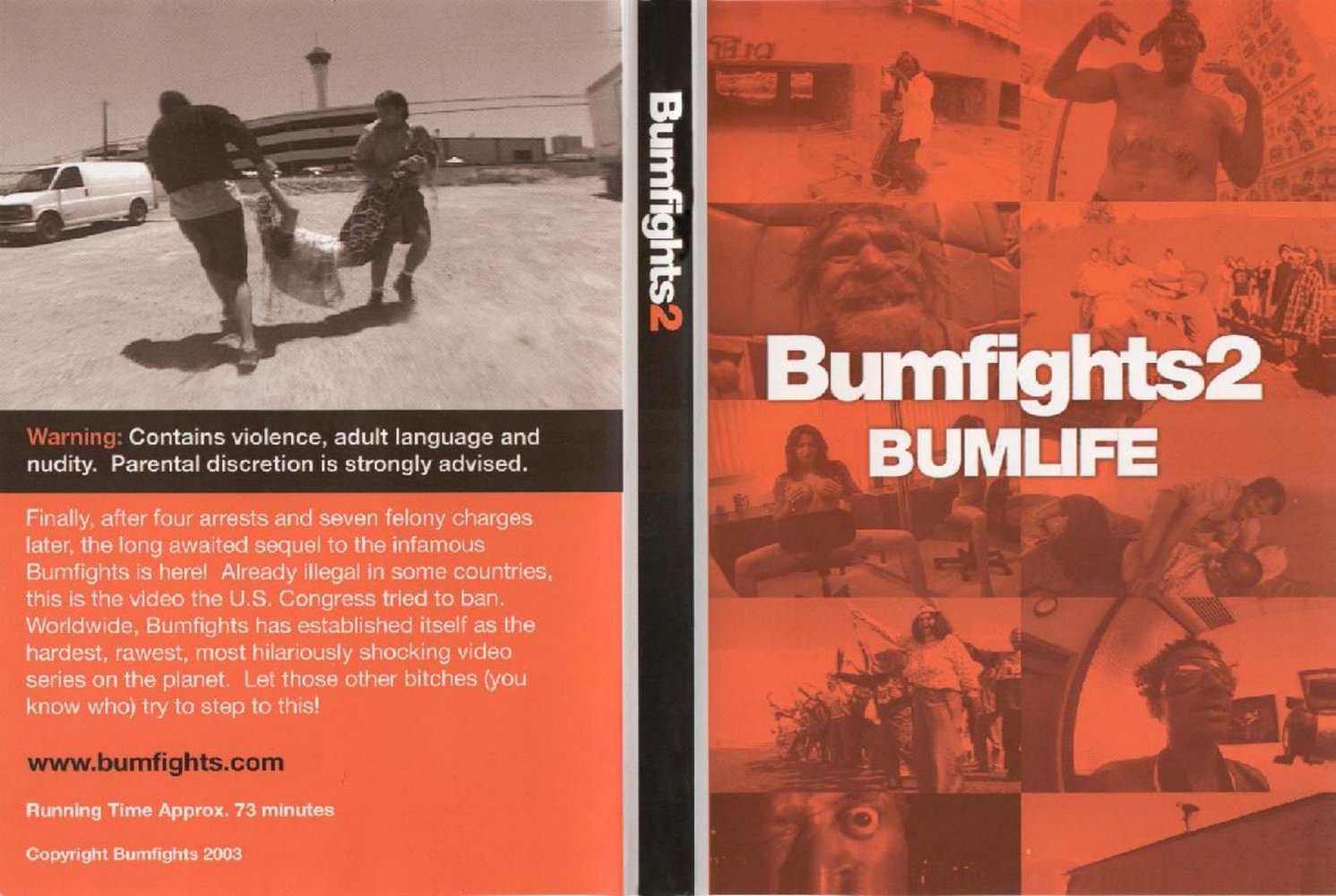 Directed by
Ty Beeson
Ray Leticia
Cast (in credits order)
Rufus Hannah
Bling Bling
Donnie Brennan ... Donnie
Produced by
Ty Beeson ... producer
Ray Leticia ... producer
Release Dates
USA 2004
Production Companies
Indecline Productions
Volume 4: Return of the Ruckus
Directed by
Ty Beeson
Ray Leticia
Cast (in credits order)
Rufus Hannah
Bling Bling
Rest of cast listed alphabetically:
Ricky Aldridge ... The Wiseman
Samir Amin ... The Wiseman
Ashley Andrews ... The Wiseman
Ryan Bailey ... The Wiseman
Marc Burrows ... The Wiseman
Les Carter ... The Wiseman
Jeff Cort ... The Wiseman
Mike Diebold ... The Wiseman
Chris Granados ... The Wiseman
Tom Korasadowicz ... The Wiseman
Andrew Krienke ... The Wiseman
Dave Krienke ... The Wiseman
Marc Outbreak ... The Wiseman
James Trill-Green ... The Wiseman
Mike Vasilik ... The Wiseman
Produced by
Ty Beeson ... producer
Ray Leticia ... producer
Stunts
Ricky Aldridge ... stunts
Ashley Andrews ... stunts
Dave Krienke ... stunts
Marc Outbreak ... stunts
James Trill-Green ... stunts