the remains of a dead private tracker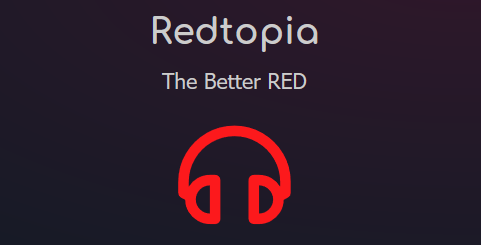 Redtopia was a private music tracker that was shutdown. This repository contains torrents for downloading its content.

All work was done by contributing members of the Music Hoarders Discord server.

Out of 10,183 torrents ripped from the site, 9,896 torrents were completed before its shutdown. The time to download was about a week. The collection resulted in about 380,000 files (including .cue, .log and other non-audio files) that totaled to about 5.7 TiB. The basic distribution by type of audio file is ~90% FLAC.

All files have been unaltered from the state they were downloaded in. An automatic tagging program may be necessary when adding the files to a collection.

The collection was broken into 12 separate torrents.

All Non-FLAC exists in a single torrent. Its total size is about 530 GiB. All FLAC is broken between 11 torrents, the first 10 being just under 500 GiB each. The 11th FLAC torrent is under 300 GiB. All torrents were created with mktorrent using a 16 MiB piece size and are announced with this tracker list.

Summaries of the torrents' contents were created with the output of tree. They are text files containing lists of all the files in each torrent. Feel free to search through the contents of the rip using the summaries without needing to start download of the torrent files.

Redtopia dump
magnet:?xt=urn:btih:f49dabdfc2e7a415e9cdfad0b75e96d8f0eeee70&dn=redtopia&tr=udp://tracker.openbittorrent.com:80&tr=udp://tracker.opentrackr.org:1337/announce

Redtopia FLAC 01
magnet:?xt=urn:btih:4387e647c66fad1825ca40efac6e52ab747f711e&dn=Redtopia+FLAC+01&tr=udp://tracker.openbittorrent.com:80&tr=udp://tracker.opentrackr.org:1337/announce

Redtopia FLAC 02
magnet:?xt=urn:btih:ede39c13fca8dbeadbff17e337576b532442292f&dn=Redtopia+FLAC+02&tr=udp://tracker.openbittorrent.com:80&tr=udp://tracker.opentrackr.org:1337/announce

Redtopia FLAC 03
magnet:?xt=urn:btih:a881befe408271c79e94009654f2b704483f9991&dn=Redtopia+FLAC+03&tr=udp://tracker.openbittorrent.com:80&tr=udp://tracker.opentrackr.org:1337/announce

Redtopia FLAC 04
magnet:?xt=urn:btih:cb0cd32b9b3e752b7720959094866ce80cde251e&dn=Redtopia+FLAC+04&tr=udp://tracker.openbittorrent.com:80&tr=udp://tracker.opentrackr.org:1337/announce

Redtopia FLAC 05
magnet:?xt=urn:btih:a14cb11e973213e9586a769931924ee6d32fa21c&dn=Redtopia+FLAC+05&tr=udp://tracker.openbittorrent.com:80&tr=udp://tracker.opentrackr.org:1337/announce

Redtopia FLAC 06
magnet:?xt=urn:btih:665d4a808805d057b63f697c0536826bfc829536&dn=Redtopia+FLAC+06&tr=udp://tracker.openbittorrent.com:80&tr=udp://tracker.opentrackr.org:1337/announce

Redtopia FLAC 07
magnet:?xt=urn:btih:3cc92a0a71f20ca0973541b9e95137e1e1093c09&dn=Redtopia+FLAC+07&tr=udp://tracker.openbittorrent.com:80&tr=udp://tracker.opentrackr.org:1337/announce

Redtopia FLAC 08
magnet:?xt=urn:btih:b79e193ac367808d7214c10928df0cc605d4b9b2&dn=Redtopia+FLAC+08&tr=udp://tracker.openbittorrent.com:80&tr=udp://tracker.opentrackr.org:1337/announce

Redtopia FLAC 09
magnet:?xt=urn:btih:5a40489e1a5c129be01843f3b288f9a1d662c08f&dn=Redtopia+FLAC+09&tr=udp://tracker.openbittorrent.com:80&tr=udp://tracker.opentrackr.org:1337/announce

Redtopia FLAC 10
magnet:?xt=urn:btih:07a107b546641607552098072959d886e0b7dbee&dn=Redtopia+FLAC+10&tr=udp://tracker.openbittorrent.com:80&tr=udp://tracker.opentrackr.org:1337/announce

Redtopia FLAC 11
magnet:?xt=urn:btih:52bd3f8c152bd58b2c1869e9672bd9613ea501ff&dn=Redtopia+FLAC+11&tr=udp://tracker.openbittorrent.com:80&tr=udp://tracker.opentrackr.org:1337/announce

Redtopia Non-FLAC
magnet:?xt=urn:btih:732bb8cc3a4bea1c0372a682ba9e8e63497612f8&dn=Redtopia+Non-FLAC&tr=udp://tracker.openbittorrent.com:80&tr=udp://tracker.opentrackr.org:1337/announce